The Lighthouse - Book Club
Spring Washam is a founder of the East Bay Meditation Center, the most diverse and accessible meditation center in the United States. In A Fierce Heart, she shares her contemporary, unique interpretation of the Buddha's 2,500-year-old teachings that get to the heart of mindfulness, wisdom, and compassion. Woven throughout the book are stories from her life, family, and community, along with soulful and unexpected stories of compassion in action from all over the world. The life-saving teachings of this charismatic teacher are universal; her honesty, enthusiasm, and energy are a balm.
To make the journey into the Now we will need to leave our analytical mind and its false created self, the ego, behind. From the very first page of Eckhart Tolle's extraordinary book, we move rapidly into a significantly higher altitude where we breathe a lighter air. We become connected to the indestructible essence of our Being, "The eternal, ever present One Life beyond the myriad forms of life that are subject to birth and death."
You know 'the Goddess' as a divine feminine figure of myth, art, and faith - but are you aware that, in truth, the Goddess is a life force that lives in you? Did you know that your multi-faceted experiences of life as a woman are influenced by Goddess consciousness? Do you sense that you have hidden feminine energy that longs to be seen, accepted, valued - and used for a healing purpose?
Who are you? When you start to explore this question, you find out how elusive it really is. Are you a physical body? A collection of experiences and memories? A partner to relationships? Each time you consider aspects of yourself, you realize that there is much more to you than any of these can define. In this book, spiritual teacher Michael Singer explores the question of who we are and arrives at the conclusion that our identity is to be found in our consciousness, the fact of our ability to observe ourselves and the world around us. By tapping into traditions of meditation and mindfulness, Singer shows how the development of consciousness can enable us all to dwell in the present moment and let go of painful thoughts and memories that keep us from achieving happiness and self-realization.
Change Your Thoughts, Change Your Life
The Journey Home is a novel about a man who seems just another of life's nobodies whose life has been tainted by tragedy and despair. The hero, Michael Thomas, was destined for greater things, but we join him broken by the loss of his parents in a traffic accident and the end of his relationship with his one true love. Trapped in a dead-end job and hand-to-mouth existence Thomas returns to his dingy apartment one night to disturb a burglar. In the resulting struggle the burglar inflicts a life-threatening injury to Thomas's throat - or does he?
The Journey Home: A Kryon Parable
The Journey Home is a novel about a man who seems just another of life's nobodies whose life has been tainted by tragedy and despair. The hero, Michael Thomas, was destined for greater things, but we join him broken by the loss of his parents in a traffic accident and the end of his relationship with his one true love. Trapped in a dead-end job and hand-to-mouth existence Thomas returns to his dingy apartment one night to disturb a burglar. In the resulting struggle the burglar inflicts a life-threatening injury to Thomas's throat - or does he?
Harvard-trained theologian Meggan Watterson marched out of her church at age ten. With little-girl clarity, she knew something tremendously crucial was missing...the voices of women. Watterson became a theologian and a pilgrim to the divine feminine to find the missing stories and images of women's spiritual voices. She knew women's voices had never been silenced, just buried. But what she truly sought was her own spiritual voice inside her--the one veiled beneath years of self-doubt. At a sacred site of the Black Madonna in Europe, Watterson had a revelation that changed her. Rather than transcending the body, denying or ignoring it, being spiritual for her meant accepting her body as sacred. Only then, Watterson realized could she hear the voice of unfaltering love inside her- the voice of her soul. With passion, humor, and brutal honesty, Watterson draws on ancient stories and lesser-known texts of the divine feminine, like The Gospel of Mary Magdalene, making them modern and accessible to reveal the spiritual process she went through.
Whatever Arises Love That
There are four simple words that point the way toward liberation and fulfillment: whatever arises, love that. This is the life-changing teaching that Matt Kahn has been sharing with millions of YouTube viewers around the world. Whatever Arises, Love That offers a collection of powerful teachings by this highly regarded teacher, providing you with a series of deeply healing insights and practices to ignite the spark of your highest potential.
Can a person literally die of loneliness? Is there a connection between the ability to express emotions and Alzheimer's disease? Is there such a thing as a `cancer personality'?
Drawing on deep scientific research and Dr Gabor Mate's acclaimed clinical work, When the Body Says No provides the answers to critical questions about the mind-body link - and the role that stress and our emotional makeup play in an array of common diseases.
When the Body Says No:
- Explores the role of the mind-body link in conditions and diseases such as arthritis, cancer, diabetes, heart disease, irritable bowel syndrome and multiple sclerosis.
'True belonging doesn't require us to change who we are. It requires us to be who we are.' Social scientist Brené Brown, PhD, LMSW has sparked a global conversation about the experiences that bring meaning to our lives – experiences of courage, vulnerability, love, belonging, shame and empathy. In Braving the Wilderness, Brown redefines what it means to truly belong in an age of increased polarisation. With her trademark mix of research, storytelling and honesty, Brown will again change the cultural conversation while mapping out a clear path to true belonging.
This book is based on talks by Ram Dass at the Menninger Foundation in 1970 and at the Spring Grove Hospital in Maryland in 1972. The text grew out of the interaction between Ram Dass and the spiritual seekers in attendance at these talks.
The result of this unique exchange is a useful guide for understanding the nature of consciousness--useful both to other spiritual seekers and to formally trained psychologists. It is also a celebration of the Dance of Life--which, in the words of Ram Dass, is the "only dance there is."
Trauma Releasing Exercises
This book explains many aspects of the trauma recovery process in uncomplicated language and uses basic concepts for the non-professional. It includes the ground-breaking, Trauma Releasing Exercises (TRE). These exercises elicit mild psychogenic tremors that release deep chronic tension in the body and assist the individual in the trauma healing process.
Conversations with God started when the author in the midst of a frustrating low-point in his life wrote a letter to God and was replied to. The book takes the format of the author questioning and God answering him. The theme that runs continually through the book is to remember our divine origins. Walsch's book makes God accessible in an almost secular way, different to our Bible-based one. An immediate, humorous, "guy next door kinda God" reminding us of basic truths. The book is written for Westerners and is practical and daily-life oriented, with answers on sexuality, money, relationships and health amongst many others. Conversations with God has the potential to re-program you to see the divine and spirituality in a totally new light.
The Work began on a February morning in 1986, when Byron Katie woke up on the floor of a halfway house, at a complete dead end in her life, and began to laugh. She had woken up without any concept of who, where, or what she was. She awoke to the fundamental, luminous state of being that is without any separation, that experiences itself as pure love. Like great spiritual masters from many traditions, she knew she had reached the end of confusion and suffering. That was the moment she burst into laughter.
Michael A. Singer, author of The Untethered Soul, tells the extraordinary story of what happened when, after a deep spiritual awakening, he decided to let go of his personal preferences and simply let life call the shots. As Singer takes you on this great experiment and journey into life's perfection, the events that transpire will both challenge your deepest assumptions about life and inspire you to look at your own life in a radically different way.
Zukav reveals how true emotional awareness can transform the human experience. Although it is challenging and difficult, because it means becoming aware of suppressed pain, it is also enormously rewarding. But first the determination to explore every aspect of consciousness, and to cultivate those that contribute the most to life, must replace the desire to bury painful emotions. Ultimately emotional awareness can free us from the compulsions, fixations, obsessions and addictions that block our spiritual development -among them anger, workaholism, perfectionism, obsessive eating, alcohol, drugs, sex -and allow us to live a fulfilling and meaningful life.
The Undefended Self is a profound and pragmatic guide to living the spiritual-psychological path toward union—with self, with others, and with the essence of life. Here we learn, through the Pathwork teachings, and through true personal stories of conflict, crisis, and breakthrough: the maps and processes for the hero's journey for our times; how to dismantle personal defenses safely and sanely and to anchor in our original divine nature; how meeting the unconscious dark side of human nature releases powerful new energies for creativity, love, aliveness, and awakening—and leaves us permanently changed; how to work with the invitations, tasks, and realities of each of the developmental stages of consciousness.
Evolutionary Relationships: Unleashing the Power of Mutual Awakening
For millennia, spirituality has been a deeply personal pursuit – monks on mountaintops and yogis in caves. But the world is more social than ever, and interconnectedness is transforming everything, from our family lives to work. Today, we need a spirituality that focuses more on "we" than "me."
In Evolutionary Relationships, Patricia Albere draws on more than four decades of teaching work to introduce a new kind of spirituality called "mutual awakening" that can be explored with a partner. An "Evolutionary Relationship" is one that drives us, challenges us, compels us to grow and evolve. It is a consciously created connection that is formed between two or more people who mutually commit to explore and develop higher states of perception and awareness together. This book shows readers how to find and transform any committed relationship – whether with a spouse, lover, partner, close friend, or family member – into a dynamic engine for mutual evolution.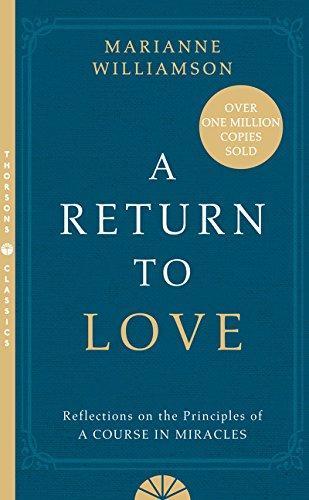 A Return to Love is based on the author's experiences as a teacher and lecturer on the self-study guide A Course in Miracles. She explains how applying the principles of love to all difficulties can aid in healing and bring about a personal transformation of the reader.
In this practical guide, she reveals how you can bring universal spiritual principles into your everyday life by accepting God and expressing love.
Whether your 'pain' is in the area of relationships, career, health or emotions, this book shows you how love is the key to inner peace, and how by practising love we can make our own lives more fulfilling while creating a more peaceful and loving world for our children.
This iconic book encourages you to become the authority in your own life. It will change the way you see the world, interact with other people, and understand your own actions and motivations. In it, Gary Zukav takes you on a penetrating exploration of the new phase that humanity has entered: one where harmony, cooperation, sharing and reverence for life become more important than the ability to manipulate and control. Using his scientist's eye and philosopher's heart, Zukav shows us how to participate fully in this evolution, enlivening our everyday activities and all our relationships with meaning and purpose.
Full Catastrophe Living is a manual for developing your own personal meditation practice and learning how to use mindfulness to promote improved health and healing in your own life. It is based on Jon Kabat-Zinn's highly acclaimed stress reduction programme at the University of Massachusetts Medical Centre, where he uses mindfulness to help thousands of people cope with stress, anxiety, pain and illness.
This book will enable you to develop your own stress management programme. It provides easy-to-follow meditation techniques, a detailed eight-week practice schedule, dozens of success stories, plus the latest research findings.
Many of us intuitively feel that reality contains a spiritual dimension hidden from our five senses. For author and channeler Lee Harris, that spiritual dimension became startlingly real one day when he began communicating with what he soon came to call "the Zs," a group of non-physical beings from another plane of reality. At first, Harris dismissed the Zs as figments of his own imagination, but they spoke with such intelligence, wisdom, and compassion that he became convinced of their existence. He learned that they have a message for humanity, with profound insights into the big issues facing all of us: relationships, prosperity, health, self-development, and more. In Energy Speaks, Lee Harris distills these teachings into a concise and practical guide for conscious living. Above all, he shows us that each one of us is an irreplaceable part of something much greater than ourselves, and that help is always available to us from unexpected sources. Energy Speaks is a wonderful and rare book from a visionary whose teachings are spreading around the world.
Her name is Dinah. In the Bible her fate is merely hinted at in a brief and violent detour within the verses of the Book of Genesis that recount the life of Jacob and his infamous dozen sons. Anita Diamant's The Red Tent is an extraordinary and engrossing tale of ancient womanhood and family honour. Told in Dinah's voice, it opens with the story of her mothers – the four wives of Jacob – each of whom embodies unique feminine traits, and concludes with Dinah's own startling and unforgettable story of betrayal, grief and love.
Deeply affecting and intimate, The Red Tent combines outstandingly rich storytelling with an original insight into women's society in a fascinating period of early history and such is its warmth and candour, it is guaranteed to win the hearts and minds of women across the world.
'I genuinely fell into this rich and colourful world and Dinah and Leah have stayed with me as ancestors and sisters brought to life by Anita Diamant's imaginative novel' - Maureen Lipman.
Spirituality is meant to bring about harmony and peace. But the diversity of our philosophies, beliefs, concepts, and views about the soul often leads to confusion. To reconcile the noise that clouds spirituality, Michael Singer combines accounts of his own life journey to enlightenment - from his years as a hippie-loner to his success as a computer program engineer to his work in spiritual and humanitarian efforts - with lessons on how to put aside conflicting beliefs, let go of worries, and transform misdirected desires. Singer provides a road map to a new way of living not in the moment, but to exist in a state of perpetual happiness.
Her key message is: "If we are willing to do the mental work, almost anything can be healed" The author has a great deal of experience and first hand information to share about healing, including how she cured herself after being diagnosed with cancer. An excerpt from You Can Heal Your Life: Life Is Really Very Simple. What We Give Out, We Get Back What we think about ourselves becomes the truth for us. Every thought we think is creating our future. Each one of us creates our experiences by our thoughts and our feelings. The thoughts we think and the words we speak create our experiences.
Change Your Thoughts - Change Your Life
Five hundred years before the birth of Jesus, a God-realized being named Lao-tzu in ancient China dictated 81 verses, which are regarded by many as the ultimate commentary on the nature of our existence. The classic text of these 81 verses, called the Tao Te Ching or the Great Way, offers advice and guidance that is balanced, moral, spiritual, and always concerned with working for the good.In this book, Dr. Wayne W. Dyer has reviewed hundreds of translations of the Tao Te Ching and has written 81 distinct essays on how to apply the ancient wisdom of Lao-tzu to today's modern world.
With the clarity of a physicist and the compassion of a gifted healer with more than twenty years of professional experience observing 5,000 clients and students, Barbara Ann Brennan presents the first in-depth study of the human energy field for people who seek happiness and health, and who wish to achieve their full potential. Our physical bodies exist within a larger 'body' , a human energy field or aura, which is the vehicle through which we create our experience or reality, including health and illness. It is through this energy field that we have the power to heal ourselves. This energy body -only recently verified by scientists, but long known to healers and mystics - is the starting point of an illness. Here, our most powerful and profound human interactions take place, the precursor and healer of all physiological and emotional disturbances.
Light is the New Black is a guidebook for a new breed of women who are here to be bright lights in the world.Rebecca Campbell had her first awakening when she was a teenager, but without anyone to guide her, she ignored her soul's callings and dimmed her light in order to fit in. Then, just before her 30th birthday, the life she had so consciously created began to crumble around her. Her 11-year relationship ended, two dear friends died suddenly, and overnight, her fantastic career as an award-winning creative director no longer fit her soul. It was as if the universe turned off all the lights, so she had no choice but to rediscover her own.
The Universe Has Your Back
Gabrielle Bernstein teaches readers how to transform their fear into faith in order to live a divinely guided life. Each story and lesson in the book guides readers to release the blocks to what they most long for: happiness, security and clear direction. The lessons help readers relinquish the need to control so they can relax into a sense of certainty and freedom. Readers will learn to stop chasing life and truly live.Making the shift from fear to faith will give readers a sense of power in a world that all too often makes them feel utterly powerless. When the tragedies of the world seem overwhelming, this book will help guide them back to their true power.
The Seven Spiritual Laws of Success
BASED ON NATURAL laws which govern all of creation, this book shatters the myth that success is the result of hard work, exacting plans, or driving ambition. In The Seven Spiritual Laws of Success, Deepak Chopra offers a life-altering perspective on the attainment of success: Once we understand our true nature and learn to live in harmony with natural law, a sense of well-being, good health, fulfilling relationships, energy and enthusiasm for life, and material abundance will spring forth easily and effortlessly. Filled with timeless wisdom and practical steps you can apply right away, this is a book you will want to read and refer to again and again.
Spiritual & Energy Healing
How many of you have observed (and experienced) life and business scenarios that are extraordinarily complex complications that have festered and grown and led to delays, confusion, disappointment and paralysis? The frustrations and stress of such scenarios are all too common to most of us. Worst still, they act as barriers to our own development and fulfilment. This book provides 52 powerful and thought-provoking perspectives and ways to simplify common business and personal situations and challenges.
The challenge as you commit to the journey of bringing it forth, though, is that you have a lifetime of beliefs, fears and habits that have held you back often subconsciously and in subtle ways.
Taken together, they create what Gay Hendricks calls the Upper Limit Problem, that virtually all of us face: Parts of us are programmed to stay safe not shine or stand out from the crowd.
In this way, we each create our own internal glass ceiling. We limit our fullest expression for fear of the consequences. We hold ourselves back because of a core set of beliefs that we will fail, we will be alone, or success will be burdensome.
With The Desire Map, Danielle LaPorte brings you a holistic life-planning tool that will revolutionize the way you go after what you want in life. Unapologetically passionate and with plenty of warm wit, LaPorte turns the concept of ambition inside out and offers an inspired, refreshingly practical workbook for using the Desire Map process:
Feel The Fear And Do It Anyway
What are you afraid of? Public speaking; asserting yourself; making decisions; being alone; intimacy; changing jobs; interviews; going back to school; ageing; ill health; driving; dating; ending a relationship; losing a loved one; becoming a parent; leaving home, failure, believing in yourself...
In The Success Principles, the cocreator of the phenomenal bestselling Chicken Soup for the Soul series, helps you get from where you are to where you want to be, teaching you how to increase your confidence, tackle daily challenges, live with passion and purpose, and realize all your ambitions. Filled with memorable and inspiring stories of CEO's, world-class athletes, celebrities, and everyday people, it spells out the 64 timeless principles used by successful men and women throughout history--proven principles and strategies that can be adapted for your own life, whether you want to be the best salesperson in your company, become a leading architect, score top grades in school, lose weight, buy your dream home, make millions, or just get back in the job market.
The Law of Divine Compensation

On Work, Money, and Miracles
Marianne Williamson is a bestselling author (Return to Love, Healing the Soul of America), a world-renowned teacher, and one of the most important inspirational thinkers of our time. In The Law of Divine Compensation, she reveals the spiritual principles that help us overcome financial stress and unleash the divine power of abundance. A guru to anyone interested in spirituality, Williamson's words ring with power and truth as she assures us that, with faith in God's promise of prosperity for all, we need never fear the future.
Leveraging The Universe

7 Steps to Engaging Life's Magic
Mike Dooley offers his first "how-to" book, spelling out exactly what can, should, and must be done to harness the Universe and life's magic and what should—at all costs—never be done. In just seven steps, from understanding the nature of reality to aligning your beliefs with your dreams, Dooley shares exactly what you can immediately do to chart a course for seeing lasting results.
This is a completely updated edition of the 1983 classic that introduced a powerful method for gaining freedom from self-defeating behaviours and beliefs. Rick Carson, creator of the renowned Gremlin-TamingTM Method, has revised the book to include fresh interactive activities, real-life vignettes we can all identify with, and new loathsome gremlins ripe for taming. Carson blends his laid-back style, Taoist wisdom, the Zen Theory of Change, and sound psychology in an easy-to-understand, unique, and practical system for banishing the nemesis within.
The Dance of the Lion and the Unicorn
The Dance of the Lion and the Unicorn is a riveting read and a revolutionary approach to helping couples whose relationship is in trouble. It focuses on the most common dynamic of relationships that fail: One partner (lion) reacts with outbursts of anger, while the other (unicorn) tries to avoid conflict in ways that only make things worse.
It is the amusing and enlightening story of four characters who live in a maze and look for cheese to nourish them and make them happy. Cheese is a metaphor for what you want to have in life, for example a good job, a loving relationship, money or possessions, health or spiritual peace of mind. The maze is where you look for what you want, perhaps the organisation you work in, or the family or community you live in. The problem is that the cheese keeps moving.
In Thrive, Arianna Huffington, the co-founder and editor-in-chief of the Huffington Post and one of the most influential women in the world, has written a passionate call to arms, looking to redefine what it means to be successful in today's world.
She likens our drive for money and power to two legs of a three-legged stool. It may hold us up temporarily, but sooner or later we're going to topple over. We need a third leg – a Third Metric for defining success – in order to live a healthy, productive, and meaningful life.
Every time we are introduced to someone new, try to be creative, or start a difficult conversation, we take a risk. We feel uncertain and exposed. We feel vulnerable. Most of us try to fight those feelings - we strive to appear perfect. But in a powerful new vision Dr. Brené Brown challenges everything we think we know about vulnerability, and dispels the widely accepted myth that it's a weakness. She argues that vulnerability is in fact a strength, and when we shut ourselves off from revealing our true selves we grow distanced from the things that bring purpose and meaning to our lives.
Readers of all ages and walks of life have drawn inspiration from Elizabeth Gilbert's books for years. Now, this beloved author shares her wisdom and unique understanding of creativity, shattering the perceptions of mystery and suffering that surround the process – and showing us all just how easy it can be.
By sharing stories from her own life, as well as those from her friends and the people that have inspired her, Elizabeth Gilbert challenges us to embrace our curiosity, tackle what we most love and face down what we most fear.
The Power Of The Subconscious Mind
'The Power of Your Subconscious Mind - A Pocketbook Guide to Fulfilling Your Dreams' It is one of the most brilliant and beloved spiritual self-help works of all time which can help you heal yourself, banish your fears, sleep better, enjoy better relationships and just feel happier. The techniques are simple and results come quickly. You can improve your relationships, your finances, your physical well-being.
Most people think success comes from good luck or enormous talent, but many successful people achieve their accomplishments in a simpler way: through self-discipline. No Excuses! shows you how you can achieve success in all three major areas of your life, including your personal goals, business and money goals, and overall happiness. Each of the 21 chapters in this book shows you how to be more disciplined in one aspect of your life, with end-of-chapter exercises to help you apply the "no excuses" approach to your own life. With these guidelines, you can learn how to be more successful in everything you do- instead of wistfully envying others you think are just "luckier" than you. A little self-discipline goes a long way, so stop making excuses and read this book!
The Slight Edge is a way of thinking, a way of processing information that enables you to make the daily choices that will lead you to the success and happiness you desire. Learn why some people make dream after dream come true, while others just continue dreaming and spend their lives building dreams for someone else. It's not just another self-help motivation tool of methods you must learn in order to travel the path to success. It shows you how to create powerful results from the simple daily activities of your life, by using tools that are already within you.
Think and Grow Rich is a motivational personal development and self-help book written by Napoleon Hill and inspired by a suggestion from Scottish-American businessman Andrew Carnegie. While the title implies that this book deals only with how to get rich, the author explains that the philosophy taught in the book can be used to help people succeed in all lines of work and to do or be almost anything they want.
The Science of Getting Rich
Wallace D. Wattles introduced the world to the power of positive thinking. He was a profound influence on Michael Losier and James Arthur Ray. Without Wattles "Science Of" trilogy there never would have been books such as The Secret, The Laws of Attraction, and the Power of Positive Thinking. Now you can go directly to the source with this easy to understand lesson book on using the Laws of Attraction to attract wealth.
Secrets of the Millionaire Mind
Secrets of the Millionaire Mind reveals the missing link between wanting success and achieving it!
Have you ever wondered why some people seem to get rich easily, while others are destined for a life of financial struggle? Is the difference found in their education, intelligence, skills, timing, work habits, contacts, luck, or their choice of jobs, businesses, or investments?
The shocking answer is: None of the above!
A healing protocol and step-by-step program with over 90 recipes to cleanse, restore and nourish. Heal Your Gut is a beautifully designed and photographed step-by-step protocol for restoring your inner gut health, via a treatment program and detox regime, supported by over 90 anti- inflammatory recipes to heal and nourish. Whether you're suffering from a health issue aggravated by diet and a poorly functioning digestive system, or whether you have an auto- immune or digestive disorder, food allergies or intolerances, IBD, IBS, Crohn's disease, coeliac disease, leaky gut, inflammatory issues, thyroid problems, neurological disorders, obesity, diabetes, arthritis or fibromyalgia, this book will provide you with information, meal plans and recipes to really heal your gut and get back on track with your health.
Medical Medium reveals the root causes of diseases and conditions that medical communities either misunderstand or struggle to understand at all. It explores all-natural solutions for dozens of the illnesses that plague us, including Lyme disease, fibromyalgia, adrenal fatigue, chronic fatigue syndrome, hormonal imbalances, Hashimoto's disease, multiple sclerosis, depression, neurological conditions, chronic inflammation, autoimmune disease, blood sugar imbalances, colitis and other digestive disorders, and more.
From sumptuous desserts, to food on the go, delicious dips, raw treats and rainbow bowls of awesome veggies, Ella's philosophy is all about embracing the natural foods that your body loves and creating fresh, simple dishes which are easy to make and taste amazing. Featuring more than 100 new sugar-free, gluten-free and dairy-free recipes to excite your taste buds, this collection will inspire you to eat for better health, glowing skin and boundless energy.
Every day we eat food products made of wheat. As a result millions of people experience some form of adverse health effect, ranging from minor rashes and high blood sugar to the unattractive stomach bulges that preventative cardiologist William Davis calls 'wheat bellies'. According to Davis, that fat has nothing to do with gluttony, sloth or too much butter: it's down to the whole grain food products so many people eat for breakfast, lunch and dinner.
After witnessing over 2,000 patients regain their health after giving up wheat, Davis reached the disturbing conclusion that wheat is the single largest contributor to the nationwide obesity epidemic - and its elimination is key to dramatic weight loss and optimal health.
Join The Golden World...
The School Of Healing, Transformation & Empowerment